Hinchingbrooke patients treated in 'abusive' manner CQC says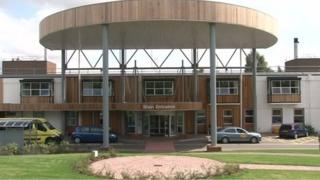 Patients at the first privately-run NHS hospital have been treated in an "undignified" and "emotionally abusive" manner, health inspectors have said.
The findings were revealed in a letter to Hinchingbrooke Hospital in Huntingdon from the Care Quality Commission (CQC).
The letter, which comes ahead of a full report, was leaked to the Health Service Journal.
The hospital said it was "constantly looking for ways to improve".
Infection fears
The CQC has visited Hinchingbrooke Hospital, which is run by the private company Circle, this month.
On 23 September it wrote to the hospital to highlight various concerns, including its team observing "staff treat patients in an undignified and emotionally abusive manner".
The commission said patients on medical wards who "lacked the capacity to consent" were being sedated and there was a failure to update care plans to reflect patients' changing needs.
The hospital's infection control techniques were criticised.
The CQC team saw staff who failed to follow "hand washing guidance after seeing a patient isolated for C. difficile", despite the trust "currently struggling" to control its spread.
Hand washing practice was "very variable" at wards, including the accident and emergency department, the letter continued.
The inspectors discovered drugs were not locked away and "despite being given verbal reassurances as to action taken", the drugs were still "open and accessible to patients" for two days running.
Hinchingbrooke's chief executive Hisaham Abdel-Rahman said the hospital and commission were "working closely".
He said: "It's normal for the CQC to ask for further information and reassurance during an inspection. We're in the middle of that now.
"We can't comment further until the CQC publish their final report, other than to say we are working closely with them and are confident our plans will meet their approval.
The chief inspector of hospitals Professor Sir Mike Richards said the inspection process was unfinished.
He added the letter was sent "to enable the hospital to take improvement actions without delay and is not a judgement on the trust".
The report will be published before the end of the year.