Hinchingbrooke staff in CQC 'abuse' concerns 'fear bosses'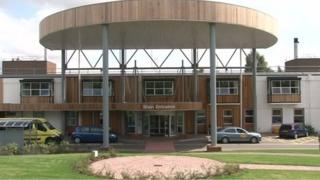 Staff accused of treating patients in an "undignified and emotionally abusive manner" at a privately-run NHS hospital in Cambridgeshire are victims of a "blame culture", a union said.
The criticism was in a Care Quality Commission (CQC) letter to Hinchingbrooke Hospital ahead of a full report following a recent inspection.
The Royal College of Nursing (RCN) said hospital staff felt bullied.
The hospital said it was inappropriate to comment before the final report.
The letter from CQC was leaked to the Health Service Journal last week.
CQC visited Hinchingbrooke Hospital, which is run by the private company Circle, earlier this month.
The letter highlighted the health watchdog's concerns, which will be published in full later this year.
These included some patients who "lacked the capacity to consent" being sedated, and staff failing to update care plans or locking drugs away securely.
'Bullied and blamed'
Karen Webb, regional director of the RCN said: "I am horrified that patients are being put in a position where they don't feel they're getting dignified care, but equally horrified that staff are feeling they are not being treated as human beings either.
"Many of them say they're being bullied by managers and don't have the confidence to speak up when they feel quality is going awry."
She said there was a "growing culture of blame" at the hospital.
Jo Rust, from the union Unison, said members were "afraid to report concerns because there is a blame culture at the hospital, rather than a support system to help staff to achieve".
A hospital spokesman said they were "very happy" to talk to representative bodies and unions.
Hisham Abdel-Rahman, Hinchingbrooke's chief executive, said: "We can't comment further until the CQC publish their final report, other than to say we are working closely with them and are confident our plans will meet their [CQC's] approval."