Barking dog saved cats from wheelie bin death, says charity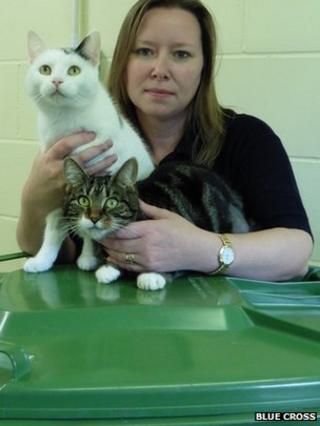 Six cats dumped in a wheelie bin were saved from "certain death" when a barking dog alerted its owners to their whereabouts.
The adult animals had been "callously dumped" in a remote area near Wicken Fen nature reserve in Cambridgeshire, the Blue Cross animal charity said.
They were found after the dog began barking and scratching at the bin.
The charity said the cats were in good condition but "would certainly have died" had they been left there.
Alan Maskell, manager of the charity's Cambridge centre, said the cats were aged between about two and five.
"When the dog's owners opened the bin they found six cats staring up and them. They were completely shocked," he said.
"It's a dreadful case, the poor cats must have been terrified.
"Whoever did this must have intentionally dumped the bin as it was in the middle of nowhere."
He said although the cats "must have been cared for at some point", they would have died in the wheelie bin if the dog had not discovered them.
Cambridge's Blue Cross centre is now hoping to find new homes for them.