Cambridge City football stadium at Sawston to be built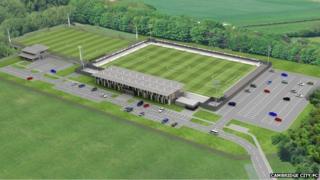 Work on a new football stadium for Cambridge City FC could begin before the end of the month after it was given the green light by government.
The Southern Premier Division side is to build a community stadium in Sawston.
South Cambridgeshire District Council approved the plans, but because the land was green belt, the final decision had to be made by the government.
Club chairman Kevin Satchell said it was the "dawn of a new era" for City.
The club has been sharing a ground with Histon after moving out of their Milton Road home last year when it was sold for a housing development.
Plans for a new 3,000-capacity stadium off Babraham Road had originally been recommended for rejection by planning officers because of its green belt location.
There were also concerns about increased traffic and the loss of woodland.
In June, the district council's planning committee voted unanimously in favour of revised plans, subject to government approval.
In a letter to the council, the Department for Communities and Local Government confirmed secretary of state Eric Pickles did not intend to call in the application.
Mr Satchell said: "This is fantastic news for everyone involved with Cambridge City Football Club. We can now really move forward and develop something truly special that will not only secure the long-term future of the club, but will also provide a first class community facility for the people of Sawston and surrounding area."
The stadium complex will include a floodlit grass pitch and a training ground.
A separate floodlit recreation ground will also be created, which the club will give to Sawston Parish Council for community use.