Peterborough solar farm plans set to be scrapped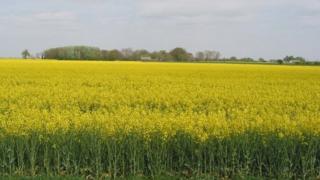 Plans for two solar and wind farms near Peterborough are set to be scrapped after the city council spent two years and more than £3m planning them.
Councillors have now agreed the widely-opposed sites at Newborough and Thorney are no longer financially viable.
A government decision to call in and review large-scale solar projects was a factor, the council said.
The final decision will be taken at a cabinet meeting next month.
The city council hoped its 900-acre (364 hectares) renewable energy park at sites in Newborough Farm, Morris Fen near Thorney, and a third at America Farm would bring in an income of at least £90m over 20 years.
'Common sense'
Concerns were raised by tenant farmers, the National Farmers Union (NFU), local residents and archaeologists.
The council has now decided plans for two of the sites - on prime grade one farmland - should be dropped.
Gavin Elsey, cabinet member for communications, said: "We believe ceasing the projects at Newborough Farm and Morris Fen in Thorney is the right decision for Peterborough in view of the most recent government announcement and the many unforeseen changes that have happened on a national level.
"When we announced the schemes two years ago it was a completely different landscape, and at that time the projects we were proposing could have generated significant income for the city."
The decision to scrap two of the schemes was "not an easy one" to recommend to cabinet, he added.
Michael Sly, from the NFU, said "commonsense [had] prevailed over a poorly planned and consulted project".
Leader of the Conservative council, Marco Cereste, maintained the project was "well-planned... and in the right place" and said he was "disappointed" by the decision.
"We have a duty to get the best we can from the assets the council owns," he said.
The money generated from the energy park "could have protected front-line services within the city, certainly for the next 20 years", Mr Cereste added.
Proposals for the America Farm site - which is grade three farmland and therefore not as agriculturally productive - are still being considered.