Star Wars explained in touch and smell at Peterborough event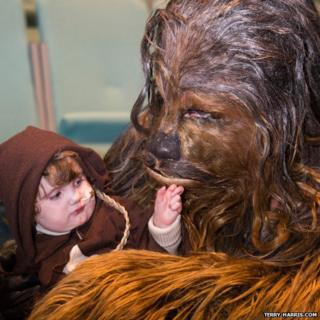 Star Wars actor Warwick Davis was among more than 2,000 people to attend a film and television fans' convention that uses touch, smell and texture.
The Feel the Force Day took place at the Kingsgate Centre in Peterborough.
Co-founder JJ Lucia-Wright was inspired to help organise it after spending the past 10 years teaching a friend who is deaf and blind about Star Wars.
He believes it is the only film and television convention in the UK to focus upon sensory experiences.
People attending were encouraged to stroke a Wookiee, sniff the scent of the Millennium Falcon and hug Princess Leia.
The convention featured costumed re-enactors from other films as well as the Star Wars franchise.
Mr Lucia-Wright uses the deafblind alphabet to share his Star Wars knowledge with his friend Jimmy O'Hare.
The deafblind alphabet is a manual system in which different taps on a hand spell out the letters of the alphabet and are used to create words.
Mr Lucia-Wright said it was a slow process. "I've touched on space ships, what's real and what's not real - but we've not really done the stories yet," he said.
Warwick Davis, who played Wicket the Ewok in Return of the Jedi, was an unexpected visitor, after filming for Star Wars: Episode VII - being directed by JJ Abrams - was cancelled.
He said: "Fortunately I could pop in as it was either JJ Abrams or JJ Lucia-Wright."
Fellow organiser Si Howard said he set up a charity, 1st Sensory Legion, to create events such as this for people with sensory disabilities after Mr Lucia-Wright approached him for help.
It is the second time they have organised this sort of convention.
The first, held last year, focused on Star Wars and the organisers expected 20 people to turn up - but 400 attended.