Plaque for Scott's 'forgotten' German benefactor unveiled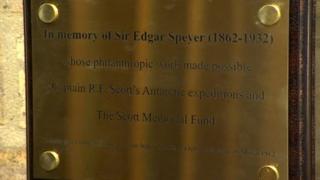 A plaque has been unveiled in Cambridge to mark the contribution made by explorer Capt Robert Falcon Scott's "forgotten" German-born benefactor.
Sir Edgar Speyer helped finance Scott's Antarctic expeditions, but was convicted of wartime disloyalty in 1921 and lost his British nationality.
The explorer thanked Sir Edgar for his "generous kindness" in a letter written shortly before he died in 1912.
The memorial was unveiled at the Scott Polar Research Institute.
Prof Julian Dowdeswell, director of the Institute, said the banker's role "has been largely forgotten".
Scott and his team died on their return from the South Pole. It was Scott's second expedition to Antarctica.
Prof Tony Lentin, from Wolfson College, Cambridge, who has written a book on the banker, said he was "airbrushed out of British history".
"Speyer personally put up the £5,000 [needed to] send out a ship to rescue Scott and his companions when their ship, the Discovery, was stuck in the polar ice."
Sir Edgar, who was a naturalised British citizen, became honorary treasurer of the British Antarctic Expedition in 1909 and helped raise funds for Scott's Terra Nova expedition from 1910 to 1912.
In Scott's last letter to Sir Edgar, written on 16 March 1912, he said: "I thank you a thousand times for your help and support and your generous kindness... I regret only for the women we leave behind."
When World War One broke out, Sir Edgar, was suspected of signalling naval secrets to German submarines from his house on the Norfolk coast.
He left for the United States in 1915. Sir Edgar, his wife and his British-born children were stripped of their British nationality when he was convicted of wartime disloyalty.
The plaque was unveiled by Dr David Wilson, a great-nephew of Edward Wilson who also died during the Terra Nova expedition.
He said: "What happened to Speyer was one of the great wrongs that happened through the Great War."