Cambridge park and ride 'how to pay' video released amid complaints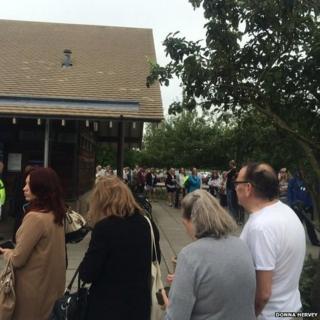 Transport bosses have released a video explaining how to use parking machines, amid complaints about queues at Cambridge park and ride sites.
Machines and a £1 parking charge were introduced at the five sites in July.
Queues to pay have led to the system being branded "a complete farce" by one user, with others also complaining on social media websites.
The county council admitted there were problems and has put in more machines, as well as releasing the video online.
The £1 charge was introduced to help cover the £1m annual maintenance costs at its sites in Milton, Trumpington, Babraham Road, Newmarket Road and Madingley Road.
'Stress-free' travel
The new system involves users having to enter their vehicle registration number then find the automated photograph of their car before paying.
One user said on Twitter: "Queues of people trying to buy tickets while a near empty bus leaves."
Another wrote: "How is it that all the deep-thinking minds of Cambridge can't come together to organise a simple park and ride system?"
"Complicated pay machines" had led to one woman saying her parents and many other "OAPs" had stopped using the service.
Joseph Whelan, head of passenger transport at the county council, said additional machines, new signage and the video had been introduced to help people "get into the city the most stress-free way".
"We know there have been problems for customers adjusting to the new payment system and the new machines and extra measures should make this a thing of the past, but we will continue to keep a close eye on things in the run up to Christmas," he said.