Dog in Cambridgeshire manhole sparks danger warning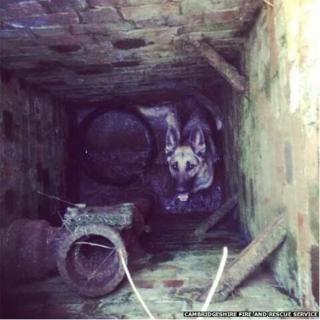 Dog walkers in Cambridgeshire have been warned of the dangers of using derelict land after a German shepherd dog had to be rescued from a manhole.
One-year-old Olly chased his ball into the hole at the former RAF Upwood station and found himself stuck.
Fire crews used a ladder to rescue him from the hole, which was about 3m (10ft) deep.
A spokesman said although the dog was fine, there were "a number of hazards including other gaping holes".
The fire service referred to Saturday afternoon's incident as a "somewhat unconventional dog rescue", adding: "We got him - and the yellow ball he had been chasing - out safe and sound."
It took two crews about an hour to retrieve Olly and his toy.
Callum Faint, Cambridgeshire Fire and Rescue Service group commander, said: "RAF Upwood is an area of concern for the emergency services as there are numerous hazards on the site.
"We know it is a popular place for dog walkers so we would urge the public to be aware of the hazards and consider exercising dogs in other locations where there is less risk of both owner and animal getting injured."
Olly's owner said the dog was "back to his usual self and very happy to have his ball back".