More Bassingbourn Libyan cadets to leave UK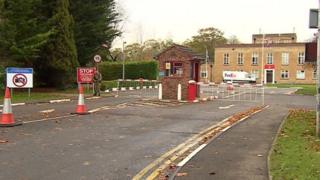 More Libyan cadets being trained in Cambridgeshire are expected to leave the base later on Thursday.
About 300 recruits arrived at Bassingbourn Barracks in June in a government deal to train 2,000 cadets.
The Ministry of Defence (MoD) confirmed the training would be cut short and the soldiers would be sent home two weeks early after five cadets were accused of sexual assaults.
A number of soldiers had already left the base on Wednesday, the MoD said.
The 300 recruits were the first tranche to be brought to the UK for training as part of a programme to ensure Libya's security and its transition to democracy.
Rape allegation
At the time the MoD said they would only be allowed on escorted trips from the barracks, but for a period those rules were relaxed.
After a number of sexual assaults were connected to some of the soldiers, the ministry confirmed no further unescorted trips would be permitted and any supervised visits would be kept to a minimum.
Of the five cadets accused of the sex assaults, two have admitted offences against women and are due to be sentenced.
Two other cadets are accused of raping a man and will appear at Cambridge Crown Court next week.
The fifth has not yet entered a plea.
Earlier this week the MoD made the decision to curtail the training and said the Libyans would be leaving the UK "in the coming days".
On Wednesday a spokesman said: "Training was initially expected to last until the end of November but we have agreed with the Libyan government that it is best for all involved to bring forward the training completion date.
"The first recruits left the UK for Libya today, the others will be returning to Libya in the coming days."
The government is considering the future of the training contract and whether further recruits will be allowed to come to the UK as part of the agreed programme.
The Ministry of Defence did not wish to comment further and would not confirm when the last of the recruits would be leaving the barracks.