Dr Daniel Ubani wins costs from Cambridgeshire victim's son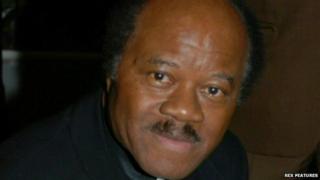 A man whose father was killed by a lethal overdose from a doctor said he feels "physically sick" at the idea of paying the physician's legal costs.
German locum Dr Daniel Ubani sued Rory Gray for calling him "an animal" during a confrontation in 2010.
A court in Germany proposed Mr Gray pay 75% of the case's legal costs and asked him to write to the doctor.
Dr Ubani injected 10 times the safe dose of diamorphine into David Gray, from Manea, Cambridgeshire, in 2008.
Rory Gray said he did not yet know how much money he was expected to pay his father's killer, but it would was "certainly in the thousands" of euros.
In a new written ruling, the Amtsgericht civil court in Lindau recommended that Mr Gray writes a letter to the medic promising never to call him an animal again, as well as paying the costs.
He was also threatened with a 200,000 euro fine if he repeats the insult.
Mr Gray said: "It just makes me feel physically sick.
"It's utterly grotesque - how am I meant to enter into correspondence with the killer of my family and then pay him money?"
The scientist, who lives and works in Germany, said he would be taking further legal advice before making a decision on what to do next.
Dr Ubani, administered the fatal overdose on his first and only shift in the UK with the out-of-hours GP service, Take Care Now.
He had been refused work by Leeds Primary Care Trust because of his poor English but was later employed in Cambridgeshire.
A coroner subsequently found that he had unlawfully killed David Gray.
Mr Gray and his brother Stuart had confronted Dr Ubani at a medical conference in Germany, during which they called him a "charlatan" and a "killer".
The medic had also attempted to sue Mr Gray for the loss of a speaking fee at the conference, but the court said it needed more evidence a fee had been offered and that it was withheld owing to the disruption.
In 2011, Dr Ubani lost an appeal in Munich High Court to stop Mr Gray's sons describing him as a "charlatan" and a "killer", but it ruled they must not call him "an animal".
That same year, German medical authorities fined Dr Ubani 7,000 euros (£6,275) for breaking its professional code of conduct in relation to Mr Gray's death.
The doctor, who remains free to practise in Germany, has refused to return to the UK, where he has been struck off the medical register.
As a result of this case, there is now a legal duty to ensure a doctor's English is satisfactory before they are employed.