Teenager dragged to death by car: Pair jailed for robbery killing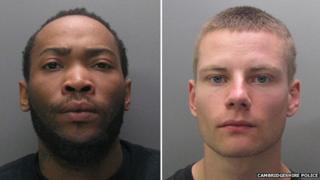 Two men have been jailed over the death of a teenager who was dragged along by a car driving at 40mph (64km/h) while he was being robbed in Peterborough.
Mohammed Sanghar, 18, was buying cannabis from James Pettit and Dino Fumo through a car window in April.
But Cambridge Crown Court heard as the victim went to pay his wallet was grabbed and the car set off.
Pettit was jailed for eight-and-a-half years for manslaughter. Fumo received 20 months for robbery.
Cambridgeshire Police said Pettit, 22, of Restormel Close, Bedford, drove Fumo, 23, of St Michael's Road, Bedford, to Mr Sanghar's home city of Peterborough, where the latter intended to sell the victim cannabis in a pre-arranged deal.
They met at about 14.30 BST in Russell Street on 10 April, but as the victim went to pay for the cannabis, Fumo, who was in the front passenger seat, grabbed hold of his money and wallet.
'Light sentence'
The force said Pettit pulled away and Mr Sanghar, also known as Haroon, was dragged for about 180 metres at speeds of up to 40mph before he fell.
He died in hospital having suffered multiple injuries, including severe head injuries.
The pair were caught after Pettit's car was captured on an automatic number plate recognition (ANPR) camera in the area.
Pettit, who admitted manslaughter, also received a 20 month concurrent sentence for robbery. He was also disqualified from driving for 10 years.
Fumo, who admitted robbery but was found not guilty of manslaughter by a jury, was jailed for 20 months.
Det Insp Jon McAdam, from Cambridgeshire Police, said: "Haroon was buying cannabis on behalf of his best friend and the incident should have ended there.
"However, Fumo and Pettit decided to rob Haroon of his wallet and money instead of going through with the deal."
In a statement, Mr Sanghar's family said: "Whilst we are relieved that James Pettit has accepted responsibility for his actions in causing Haroon's death, we believe that Dino Fumo has not taken full responsibility for the part he played and his light sentence does not reflect the seriousness of what happened."