Melbourn death: Ian Catley admits shooting Philip Harper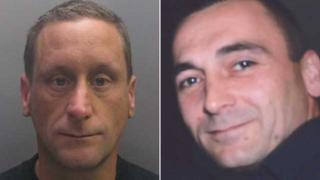 A man has admitted shooting dead a "delinquent Ray Mears" who thought he was wearing a bullet-proof vest.
The pair had been out hunting rabbits and pigeons on farmland near Melbourn in Cambridgeshire in June.
Philip Harper, 46, of Meldreth, died from a gunshot wound to the chest.
Ian Catley, 40, from Melbourn, who took the wounded man to an ambulance station, pleaded guilty to manslaughter at Southwark Crown Court and is due to be sentenced next year.
Pauline Harper, the dead man's mother, said after his death: "A 'delinquent Ray Mears', Philip was always up for a challenge.
"We are glad to have shared our lives with him and we will miss him terribly."
'Foolish incident'
Mr Harper had been with Catley on land near Black Peak Farm on Sunday 29 June.
Cambridgeshire Police said the dead man had bought what he believed to be a bullet-proof vest from a surplus store.
Shortly before 18:00 BST, Catley turned up at Melbourn ambulance station with the injured man in the back of his Land Rover.
Paramedics treated him but he died at the scene.
Police said Catley was arrested but he failed to mention that Mr Harper had been wearing the vest, which was later found in the car.
Det Sgt Andrea Warren said: "This was a foolish incident that ended in tragedy.
"Catley's actions after the incident, in not giving us the full details of the events, prolonged the investigation unnecessarily, however I welcome his guilty plea."
Catley is due to be sentenced on 16 January.