Bridge Foot Quarry wood fire 'probably arson'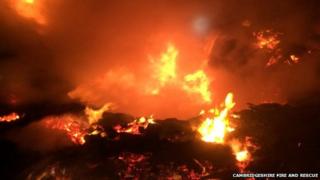 A blaze at a wood recycling centre between Hertfordshire and Cambridgeshire is believed to have been started deliberately.
The fire in a large pile of wood chippings at Bridge Foot Quarry at Flint Cross near the A505 started at about 22:15 GMT on Thursday.
Cambridgeshire Fire and Rescue Service said it was likely to continue burning for "a couple of weeks".
A man in his 70s was arrested on suspicion of arson and bailed.
A spokesman from the fire service described it as a "complex fire which is being allowed to burn in a controlled way".
"Most surface area is now involved in the fire so at times it may seem to passers-by as though the fire has increased in size," he said.
The Environment Agency's air sample monitoring results had been "reassuring", he added, but said people living nearby who were sensitive to smoke should continue to keep windows and doors closed.