Addenbrooke's Hospital Choir traces family in soldier song search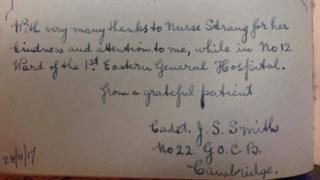 A piece of music written for a nurse by a soldier in World War One is to be performed for his family after they were traced by a choir.
Addenbrooke's Hospital Choir in Cambridge found the 1917 work in an autograph book signed by servicemen.
Chairwoman Lizzie Hart said she felt performing the piece by organist John Sidney Smith would be a "lovely commemoration for the Christmas truce".
The composition will be performed at the choir's Christmas carol concert.
Three of the soldier's grandchildren will be in the audience at the city's Great St Mary's Church on 15 December.
"It's pretty amazing that they all want to come and listen to a piece of their grandfather's music," said Mrs Hart.
The choir traced the family after discovering the song was written by church organist John Sidney Smith, from Stroud in Gloucestershire, in 1917.
The search took nearly three months by researching his handwritten note at the bottom of the score.
Mrs Hart said: "It wasn't easy because his surname was Smith and all we had were his initials which were J.S. - it was a pretty daunting task."
They traced his battalion and garrison from the other details written along with his name and found out the battalion was attached to Jesus College, where they found a book in its library which made a reference to a J.S. Smith in Stroud.
They went on to find the soldier's father owned an ironmonger's.
"It was a stroke of luck that that the family was well-connected," said Mrs Hart.
"He was a huge member of the community and a huge member of the church which made finding his family much easier."
Mr Smith, who died in 1974, wrote of his gratitude to his nurse while he was treated at the city centre's makeshift 1st Great Eastern Hospital.
He had been shot through both legs a year earlier in 1916.