Wicken model village restoration sparks charity hopes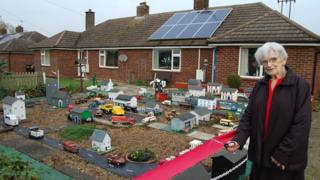 An elderly widow whose model village was restored by volunteers said she hopes it will once again raise hundreds of pounds for charity.
Pat Bullman's village in Wicken, Cambridgeshire, fell into disrepair after the death of her husband.
But its renovation was completed this month and the last of the models has now been placed in her front garden.
Mrs Bullman said she was "delighted" a number of donations had already been made into the village's charity box.
New lease of life
"I didn't ever imagine it would look like this again. I thought it had got to go because nobody would do it, but they've been marvellous and made a beautiful job of it," said the 80-year-old former driver.
The unnamed village was originally created in the front garden by Mrs Bullman and her husband Oliver for their daughter.
Over a 50-year period it grew to include buildings such as a church, pub, shops, post office and a windmill.
It became an unlikely tourist attraction, with passers-by from all over the world stopping to take a look and donating to charity.
Mr Bullman was still adding to it up until his death two years ago, but it soon fell into disrepair and Mrs Bullman was unable to save it on her own.
After a plea for help, two retired volunteers came forward and over the course of six months helped restore it to its former glory.
And as soon as Mrs Bullman and her family began putting out the new buildings this week, passers-by started dipping into their coffers once more.
The village is due to be featured in a book of model villages around the UK, and it is hoped it can raise money for good causes for years to come.
"We're hoping it will make a bit more money for the charities," said Mrs Bullman.
"It was built for Shirley when she was smaller, and the grandchildren, and now I've got seven great grandchildren and they can enjoy it as well."