Cambridgeshire detective 'touched up' officer, court hears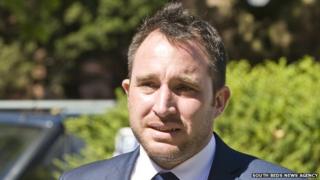 A woman detective constable was "touched up" by a sergeant after a Christmas party, a jury has been told.
She said Det Sgt Matthew Swash, 40, of Cambridgeshire Police, put his hand on her bare thigh as they sat in a van after leaving a police function.
Mr Swash, of Crown Close, March, denies 12 sex offence charges against four colleagues and a victim.
St Albans Crown Court was told that he "exploited his position" as a detective sergeant.
The woman, who cannot be named for legal reasons, said that while her husband concentrated as he drove them both home in heavy snow following the party in 2009, Mr Swash leant forward from the back seat, stroked her neck and played with her hair.
The woman said she moved forward to get away from him saying it was an "uncomfortable" journey home.
Asked by prosecutor Peter Shaw why she did not tell her husband what Mr Swash was doing from the back of the car, she replied "I know my husband would not have acted kindly to Swash and he would have ended up walking home."
Opening the case on Thursday, Mr Shaw said: "He exploited his position as a police officer to commit sexual offences against women officers.
"It is no coincidence that all of the officers he assaulted were junior to him in rank."
He told the jury of seven men and five women that Mr Swash had a "Jekyll and Hyde" character.
The trial continues.