Charles Darwin's evolution notes released by Cambridge University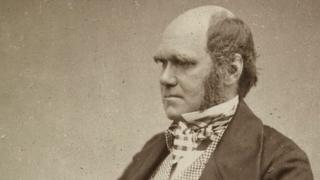 Charles Darwin's notebooks in which he first jotted down his theory of evolution have been put online in one of the most significant worldwide releases of the naturalist's material.
Over 12,000 images have been digitised by the University of Cambridge.
They chart Darwin's journey from him first coining the term "natural selection" to the release of On the Origin of Species 155 years ago.
It is hoped the material will aid academic research throughout the world.
Cambridge University Library holds almost the entire collection of Darwin's working scientific papers.
Letters showing the Christ's College graduate's emotional side were released last year. The latest releases are said to be the most important for understanding the development of Darwin's evolutionary theory.
They include documents such as the "Transmutation" and "Metaphysical" notebooks of the 1830s, and the 1842 "Pencil Sketch" which sees Darwin's first use of the term "natural selection".
Charles Darwin 1809-1882
Born in Shrewsbury on 12 February 1809
A statue of him stands outside Shrewsbury library - a building that was once his school.
Famed for his theory of evolution by natural selection
On the Origin of Species explained how new species evolved. Darwin argued that tiny variations between individuals could give one or the other a competitive advantage. He said generation after generation those tiny advantages were then passed down, or selected, until the species eventually changed
Travelled extensively, most famously as the naturalist on the Beagle on an expedition to South America and the Galapagos Islands
After voyage he approached Joseph Hooker to work on classifying his collection of plants
Married Emma Wedgwood in 1839 after comparing two lists he had written, one entitled Marry, the other entitled Not Marry
The couple had 10 children, three of whom died in infancy
Professor David Kohn, director of the Darwin Manuscripts Project, which collaborated with the university, said: "These documents truly constitute the surviving seedbed of 'the Origin'.
"In them, Darwin hammered out natural selection and the structure of concepts he used to support natural selection. It was here also that he developed his evolutionary narrative and where he experimented privately with arguments and strategies of presentation that he either rejected or that eventually saw the light of day with the Origin's publication."