Libyan Bassingbourn cadet costs of £14m still owed to Britain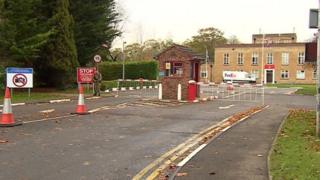 Britain is still owed more than £14m by the Libyan government for the cost of training cadets sent home early after some were accused of sexual assaults.
The first 300 of 2,000 recruits arrived at Bassingbourn Barracks in Cambridgeshire in June.
The training cost the UK £17.2m but so far Libya had paid only £2.5m, Armed Forces Minister Mark Francois said.
Libya was expected to pay in full and the government was "continuing to negotiate" over the balance, he said.
Mr Francois was responding to a written question from SNP defence spokesman Angus Robertson, MP for Moray.
Defence Secretary Michael Fallon said a "very small handful" of Libyan recruits had claimed asylum to remain in the UK.
He said of the 328 total originally signed up to the scheme, about 100 left during the course of their training by agreement with the Libyan authorities.
The remainder had now all been returned "properly" to Libya, aside from five who remain in custody, he told the Commons.
Earlier this month, David Cameron insisted no Libyan soldiers involved in the programme should be granted asylum.
Escorted trips
The cadets came to the UK as part of a government agreement to train up to 2,000 soldiers to ensure Libya's security.
At the time the MoD said they would only be allowed on escorted trips from the barracks, but for a period these rules were relaxed, allowing them to go into Cambridge alone.
After three cadets were charged with sexual assaults against women in Cambridge in October, and two were charged with rape, a decision was made to send the rest home two weeks early.
In a statement released earlier this month, the MoD described the disciplinary issues as "completely unacceptable and a matter of regret".
The government was reviewing any further training of soldiers from Libya, a spokesman said.
The £17.2m cost of training the cadets included £4.2m for interpreters and £3m "set-up costs" at the barracks.
However, the MoD does expect to recoup the full cost.
"The Libyan government has agreed to reimburse the Ministry of Defence for these costs," Mr Francois said.
"They have already paid £2.5m, and we will continue to negotiate with them over paying the balance."