Cambridge apple tree artwork planting starts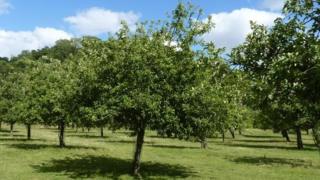 The first of almost 2,000 apple trees are being planted in Cambridge as part of a public work of art which will take about four years to complete.
The orchard has been designed by artist Neville Gabie and will eventually surround southern Cambridge with trees in concentric circles.
The city council hopes the labelled trees will become a new attraction for cyclists and walkers.
It is being funded by money provided by developers for community facilities.
The orchard, which will be known as the Cambridge Community Collection, will include every variety of apple tree in the UK.
'Memorable and meaningful'
Each tree will be labelled alphabetically with the As at the outer edges of the city towards the M11 and the Zs forming the inner circle.
The centre of the orchard will be in the Cambridge University Botanic Garden.
The city council hopes the project will be "not only an archive of apple trees but also a way of route-finding".
The apple trees will be located in popular areas such as Byron's Pool, Hobson's Brook, Nine Wells Nature Reserve and public spaces in the new neighbourhoods of Trumpington Meadows, Clay Farm and Glebe Farm.
Carina O'Reilly, executive councillor for city centre and public places, said: "Neville has come up with a really imaginative way of reflecting the growth of the city that is memorable and meaningful.
"I hope this approach to public art will inspire people as they walk or cycle to and from the city centre.
"It will be an attractive, visual and long-lasting way of linking the new and older neighbourhoods in the city."
A network of volunteers will plant and look after the trees, the council said.
The project, funded by Section 106 developer contributions, is expected to cost about £107,000.