Swaffham Bulbeck pom pom art and music fills church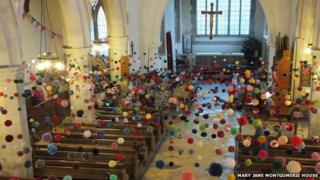 Hundreds of pom poms have taken over a Cambridgeshire church as part of a community project.
Artist Mary Jane Montgomerie House installed them in St Mary's Church in Swaffham Bulbeck, setting them to a continuous loop of classical music.
She said she wanted to do something to bring the village together and said almost everyone had made pom poms.
The 840 bobbles mirror the village's population. She has asked people to pick one that represents them.
More pom poms have been added around the edges of the church to represent people travelling through or visiting, Mrs Montgomerie House said.
She was inspired by a piece of textile art hanging above composer Gustav Holst's piano in his former house in Cheltenham.
'Pom pom world'
Music from Venus, from Holst's Planets, accompanies the pom pom art and is played in the church when services are not taking place.
The "colourful and fun" work has brought the village together, which was the intention, Mrs Montgomerie House said.
Knitting groups as well as the local school took part and the children have now started their own pom pom club, she said.
"I wanted this to be a collective piece and it does seem to have unified the village.
"Someone cleared out 50 years of yarn from the attic and donated it to the project," Mrs Montgomerie House said.
"I've been inundated with pom poms. They have taken over my conservatory.
"The vicar, Sue Giles, loves them and made some of them as well. She is now taking the spare ones to neighbouring churches," she said.