Cambridgeshire Police seize van driven with tyre missing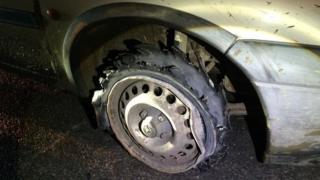 A motorist was stopped by police after he drove along a road in Cambridgeshire with a tyre missing.
Officers took action after a member of the public called them to report a suspected drink driver swerving in Elm Road, March, in the early hours.
However, when the Vauxhall Combo van was stopped, police found the front offside tyre was shredded down to the wheel's rim.
Afterwards officers tweeted: "You can't drive on 3 wheels! Vehicle seized."
The vehicle was seized on Saturday but no charges have yet been made against the driver.