Cambridgeshire Christmas 'tree bank' response 'overwhelming'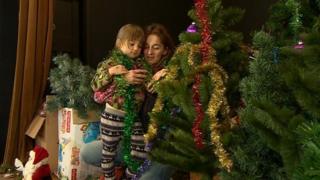 A woman who set up a "tree bank" for people who could not afford a Christmas tree said she has been "humbled" by the "overwhelming" response to the scheme.
Hayley Dolbear, from March, Cambridgeshire, gathered about 150 unwanted fake trees which she distributed to local food banks.
"One tree supplier also gave me 100 real spruces and we raised £450 for charities from those," she said.
She is now setting up her own charity to expand the scheme to other areas.
The idea was inspired by the kindness of a neighbour who three years ago gave her a tree when she could not afford one of her own.
"I had to make a decision about whether to get gifts for my two children, or a tree," Miss Dolbear said.
"When [my neighbour] turned up with a tree it really was like having an angel at my door."
'So supportive'
Now in "a much more stable place", Miss Dolbear said she wanted to help spread the Christmas cheer to others in need, and began appealing for unwanted trees and decorations a year ago.
Friends and local churches helped store them before they were given to food banks and other charities.
When a grower of real trees heard about the scheme he gave her 100 spruces which he said would otherwise be shredded.
"I decided we should give those away to the community as everyone had been so supportive," Miss Dolbear said.
"We set up in front of St John's church, but people actually wanted to make donations."
Half of the money raised was given to the church roof fund and Miss Dolbear used the rest to pay for a Christmas lunch at a women's refuge centre and hire a room for support group meetings.
An anonymous donor gave Miss Dolbear £5,000 when they heard she wanted to expand the tree bank idea.
"We're in the process of setting up as a registered charity, which will give us credibility," she said.
"I really do hope this will be taken up elsewhere because the whole thing has been amazing."