Recovery lorry pulled from Cambridgeshire field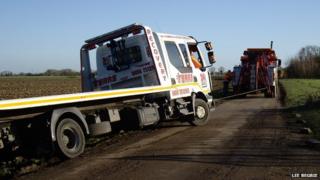 A vehicle recovery lorry and driver had to be rescued after becoming stuck in a muddy field in Cambridgeshire.
The Spalding-based Tears truck came off a narrow road in Tydd St Giles.
Another recovery vehicle from the same company had to be called out to pull the lorry off the muddy verge.
Company owner Robert Tear said the driver had been "run off the road" by another driver who did not move over. The driver was not injured and was able to drive back to base.
"It's just one of those unfortunate things," Mr Tear said. "He didn't really have a choice as the other driver was taking up too much room."
Lee Begbie, who saw the accident, said the recovery driver told him the farmer who owns the field came over and asked, "are you stuck?".
"The driver just said to the farmer, 'Well, what does it look like?'
"That's classic isn't it? I could hardly stop laughing when I heard that," Mr Begbie said.
The lorry was recovered about 90 minutes after becoming stuck and was not damaged.