Boxing gloves stolen from Dave 'Boy' Green's Chatteris garden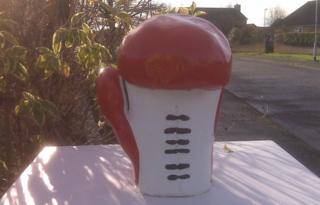 A former British and European boxing champion says he is "disappointed" that two boxing glove ornaments have been stolen from his garden.
Dave 'Boy' Green, 61, bought the two concrete ornaments about 30 years ago, around the time he went toe-to-toe with greats including Sugar Ray Leonard.
They were stolen from the front garden of his home in Chatteris, Cambridgeshire, overnight.
"It's very disappointing," he said. "But these things happen."
Mr Green had a successful boxing career, securing two shots at the welterweight world title against Carlos Palomino and Sugar Ray Leonard, before he retired at the age of 28.
Sugar Ray Leonard said his knock out blow was "was perhaps the most beautiful punch" he ever threw.
Mr Green, who was also known as the Fen Tiger, went on to become a businessman and in 2011 was appointed an MBE for his charitable services.
"It's not as if I'm not a nice person," he said about the theft of the ornaments.
"I try to help other people whenever I can, opening fetes and other things."
Cambridgeshire Police has asked for anyone with information about the stolen gloves to come forward.
They were stolen between 21:30 and 08:00 GMT.