Christmas Star Wars Lego 'sabotage' on Durham Cathedral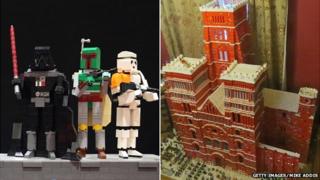 A couple have completed a Lego Durham Cathedral Christmas decoration despite "sabotage" by their children who wanted a Star Wars Death Star instead.
Mike Addis and Catherine Weightman used more than 200,000 bricks to create it.
For 20 years they have built festive models including a Dalek, but this year their children refused to help when their pleas for the Star Wars space station were dismissed.
"They're hiding Star Wars toys inside. It's their revenge," Mr Addis said.
The couple, who live in Huntingdon, Cambridgeshire, have been lifelong fans of the building bricks and made their first model when son Tom, now 22, was a baby.
Since then the living room has been dominated by a variety of 7ft (2m) "Christmassy" Lego angels, Olympic mascots, gingerbread houses and even a Santa Claus Dalek.
In the past, the couple's children have helped create the models but this year all three - Tom, Holly, 19, and Christopher, 16 - refused to join in.
"Choosing Durham Cathedral over a Star Wars Death Star was the last straw," Ms Weightman said.
'Gobsmacked'
This year's Lego model was inspired by a recent visit to her hometown.
The city's cathedral is currently raising funds by asking people to donate £1 towards one of 350,000 Lego bricks it is using to build its own model of part of the edifice.
"Most people seem really impressed with our finished article and they're gobsmacked by the sheer scale of it. It really does dominate the room," Mr Addis said.
Inside the walls they have created a medieval-style banquet scene complete with tables, plastic food and drink, soldiers, diners and falcons.
It is here the couple have found Star Wars characters among the figures.
"It's a sort of attempt at sabotage," Mr Addis said. "And no-one's owning up to it."
The Lego cathedral took almost two months to build.