Huntingdon Falcon pub used by Cromwell reopens after six years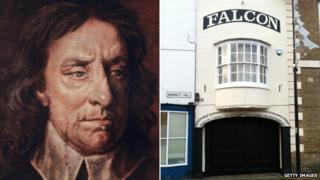 A 500-year-old Cambridgeshire pub believed to have been used by Oliver Cromwell has reopened six years after shutting its doors.
The Falcon, thought to be the oldest pub in Huntingdon, closed in 2008 and fell into disrepair.
The 16th Century inn was reputedly a Civil War headquarters for Cromwell, who was born in the town in 1599.
Campaigners who have been fighting for the pub to be reopened said the "heart of Huntingdon" had been returned.
Faye Linnell, one of the founders of the Save the Falcon Facebook campaign, said she was "absolutely over the moon" the Grade II pub had reopened.
'Difficult' restoration
"It's massively important, historically, not just locally but nationally as well.
"It's where Oliver Cromwell had his headquarters and he recruited his New Model Army here."
The English statesman's army defeated King Charles I's forces at the Battle of Naseby in 1645. Cromwell later co-signed the king's death warrant.
He became Lord Protector in 1653.
"Cromwell addressed his troops from the upstairs window of the Falcon when they were stood in the market square, so it's magnificent really," Mrs Linnell said.
"The heart of Huntingdon closed six years ago. It's back now."
New landlord and lease-owner Paul Hepworth, said: "The first time I came in here I fell in love with it, and I still am. I should think I will be for the rest of my life."
Turning the pub around had been "difficult", he admitted, "otherwise someone would have done it a long time ago".
"It's a real ale pub," he added. "We don't do any of that nonsense fizzy stuff."
There is still a great deal of work planned for the building, but when it opened at lunchtime it was "almost full to bursting", Mr Hepworth said.