Papworth buys land ready for Cambridge move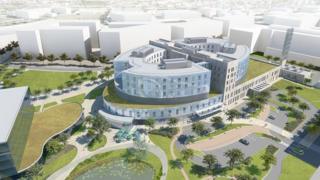 Land for one of the UK's largest NHS specialist heart and lung hospitals has been bought on the Cambridge Biomedical Campus.
Work on the new Papworth Hospital is now expected to begin early in 2015.
Seven acres (2.83 hectares) have been bought ready for the move from Papworth Everard, 13 miles (20km) west of Cambridge.
The 310-bed cardiothoracic hospital is expected to become operational in 2018.
The move will cost £165m, partly paid through a 30-year Private Finance Initiative (PFI) deal, and partly through the public sector.
In 1979, the UK's first successful heart transplant was carried out at Papworth and the current hospital has 276 beds.