Hinchingbrooke Hospital: Campaigners call for NHS control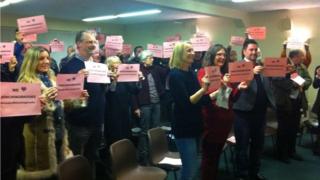 Campaigners have urged the NHS to take back control of its first privately-run hospital after a health company's decision to withdraw from the contract.
The Circle Partnership last week said its 10-year contract to run Hinchingbrooke Hospital, Cambridgeshire was "no longer viable".
The hospital is currently in special measures after being rated "inadequate" by the Care Quality Commission (CQC).
Unions say they want to try to secure its "long-term future" in the NHS.
'Abject failure'
CQC inspectors highlighted particular concerns over accident and emergency and medical care.
Steve Sweeney, regional director for the GMB union, said the "experiment" of a private company running a hospital had been an "abject failure".
"What we're calling for is the hospital to be returned to the NHS as a publically-funded, democratically accountable service," he said.
When Circle took over the hospital in 2012 it faced closure and debts of £40m.
The company had the right to end the franchise if the amount of money it had to put in to the trust exceeded £5m.
This year's final support payment would have taken Circle over that total, managers said.
Chief executive Steve Melton announced "under its present form the contract was no longer sustainable" and the company was looking to withdraw.
The company said there would be a six-month transition period.
Jo Rust from the Unison union said staff morale was very low and, although they worked very hard to meet demanding targets, senior management failed to give support or provide resources.
Mark Cubbon, from the NHS Trust Development Authority, said services would continue and there were no plans to remove A&E or maternity units.
Health campaigner Jonathan Salt said he was "quite relieved" when Circle took over. "However, now I fear this is the beginning of the end," he said.