Cambridge United's new stadium plans shelved
Plans for a new ground for Cambridge United have been shelved, with the club to remain at a redeveloped R Costings Abbey Stadium.
The League Two club had hoped to move to a new stadium in the Trumpington area, but failed to receive council backing in 2013.
Instead, the Abbey will be redeveloped and a new sports village built in Trumpington.
Details of the plans have yet to be announced.
The Abbey Stadium is owned by property developer Grosvenor, which wanted to build houses on the current site and develop a new stadium to the south-west of the city.
However, it now says the current stadium will be redeveloped "with a new focus on community uses", while the new sporting village will be a "vibrant new hub for sports, training, education, health and recreation".
The development in Trumpington will also include housing, it said.

Analysis
Nick Fairbairn, sports editor, BBC Radio Cambridgeshire
There seems to be an acceptance that relocating the club to a brand-new stadium in Trumpington is unrealistic - so a redevelopment of their current home is seen as the best alternative.
Grosvenor hopes that proposals for housing and a sporting village in Trumpington, minus a football stadium, will be looked upon more favourably by planners and local residents.
Interestingly, there is no detail on what a redevelopment of the Abbey would include.
The stadium has been labelled as not fit for purpose by the club's hierarchy, so a full facelift of the whole ground would doubtless be the ambition from the club's point of view.
The question is, would Grosvenor commit to, and fund, such a big project or does it have a smaller-scale redevelopment in mind?

Ed Skeates, Grosvenor's director of development, said: "The proposals we are confirming today can provide Cambridge with a variety of widely accessible, inspirational sports facilities and secure the future of CUFC as the city's leading professional sports club."
The club gained promotion to the Football League through the play-offs last year, and have a glamour tie against Manchester United in the FA Cup on Friday.
Jez George, chief executive, said the 8,000-capacity stadium needed modernising.
"Cambridge United are a progressive club but our stadium is antiquated and unfit for purpose if we are to continue the progression of the last 18 months," he said.
"We need to be able to grow our non-match day income and generate additional revenue on match days so we can grow a sustainable business."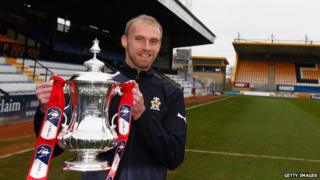 The club and Grosvenor said they would consult the public about the plans, before submitting planning applications later in the year.

Abbey Stadium: A decade of uncertainty
December 2004: The U's sell the Abbey to director John Howard for £1.92m in order to stave off administration (they subsequently enter administration in April 2005)
April 2010: Grosvenor buys the Abbey from former U's director Mr Howard for £3.5m, reducing the U's rent to a token level
July 2010: Grosvenor unveils plans to relocate the U's, funded by a redevelopment of the Abbey for housing
January 2011: Grosvenor announces a 10-site shortlist for locating the new community stadium
April 2012: Grosvenor unveils plans for a community stadium and sports village at Trumpington Meadows
May 2013: Grosvenor's plans fail to be included in Cambridge City's Council updated Local Plan for the city
November 2013: Grosvenor unveils proposals for a velodrome, sports village and housing at Trumpington Meadows, alongside a partial redevelopment of the Abbey, which also fail to meet favour with planners