Huntingdon Japanese Tosa dog owner sentenced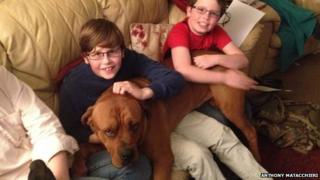 A dog owner, whose pet avoided being destroyed after a neighbour reported it attacked her dog, has been sentenced to a community order.
Anthony Matacchieri, 39, from Huntingdon, was found guilty of possessing an illegal breed after police impounded what they believed was a Japanese Tosa-type.
Huntingdon magistrates heard there was no evidence an attack took place.
Matacchieri can keep his dog, but has to pay £4,795 kennel costs.
He was given a 12-month community order, including 100 hours of community service.
Police said they confiscated the dog, called Chewie, after a neighbour reported it had got into her property on West Street, Huntingdon and grabbed her dog in its mouth.
The 12-year-old terrier, called Ella, died after the attack, but the prosecution said it had been shaken rather than bitten and it was uncertain how it died.
The defence said the dog played with the defendant's children and their behavioural expert said its temperament was very good and it showed no signs of aggression.
They argued the dog was not a Japanese Tosa, but a cross-breed mastiff, although the court decided it was illegal under the Dangerous Dogs Act 1991.
'Responsible'
Matacchieri was ordered to compensate the police for the cost of impounding the dog for 274 days.
Magistrates made a contingent destruction order, meaning the dog could go home as long as it was muzzled and kept on a lead in public, neutered and micro-chipped.
Matacchieri said: "I feel like I'm a responsible dog owner."