Cambridge United fans suffer FA Cup coach breakdown woe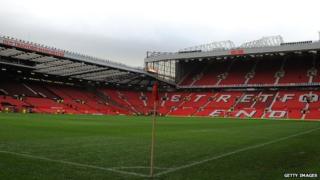 About 70 Cambridge United fans saw just 15 minutes of their FA Cup replay at Manchester United after their coach broke down.
Supporters left the Abbey Stadium at 14:30 GMT on Tuesday, but were stranded on the M6 45 minutes before kick-off.
The coach, which did not reach Old Trafford until 21:30, was also held up by an accident, roadworks, a yacht on a lorry trailer and the driver taking a wrong turn on the M11.
Manchester United won the match 3-0.
Passenger Allen Entwistle said: "Getting off the coach at 4am having seen 15 minutes of football was a kick in the backside."
The journey had been due to start at 13:00, but was put back an hour the day before.
The Richmond Coaches vehicle was delayed a further half hour while a yacht passed along Newmarket Road. The driver then turned on to the M11, heading towards London.
BBC Cambridgeshire's Sam Edwards, who was on the coach, tweeted: "Coach driver has already made a wrong turn. Currently heading south on M11."
He then reported the vehicle had developed "mechanical problems".
Cambridge United chairman Dave Doggett apologised and said he would invite passengers to the Abbey, where they would "get some VIP treatment".
A spokesman for the Confederation of Passenger Transport, which represents Richmond Coaches, also apologised.
He said the breakdown had been "extremely unfortunate".
Up to 35 coaches carrying travelling fans had already been held up due to traffic problems, causing kick-off to be delayed for 20 minutes.
Springfield Bus and Coach Company from Warrington eventually got the stranded supporters to the stadium.
Fan Sally Maskell said: "We only saw 10 minutes. As we were going in, the Manchester United fans were leaving."