Cambridge residents in share scheme to fund community centre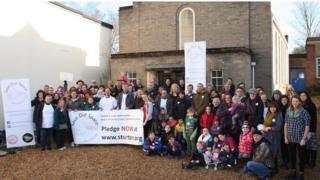 Residents in Cambridge have launched a novel scheme to raise £600,000 to save a local chapel by creating a community centre.
Many families occupy the terraced homes around Sturton Street church and hall which are soon to be sold.
A campaign group is offering £250 shares in a new venture to buy the site and pay interest on the investment.
More than 200 pledges have been made - but £200,000 more is needed by 14 February to make a bid.
Campaign leader John Franks said the idea was similar to crowd funding, but with the promise of interest paid on an investment.
Mr Franks said: "Since the Petersfield Area Community Trust launched the community share offer, we have had over 200 pledges, and we could now manage a bid of over £400,000.
"We've got until Valentine's Day to get in as many pledges as possible to create a community centre for clubs, classes and events.
"So we now urgently need even more local residents to back our campaign if we are to put together an offer of £600,000 before the site goes on the open market."
The area used to be home to university students, but as they moved into campus accommodation families took over. A mother-and-toddler group, dance school and others used the hall.
Mr Franks said he had had interest from the Guides, the WI and art groups.
"We'll easily fill the place but first we need the money to make the bid - but time is running out," he said.