Una Crown murder: Police made 'flawed decisions'
"Flawed decisions" were made by police investigating a widow's death when they failed to realise they were dealing with a murder scene, a review has said.
The body of Una Crown, 86, was found stabbed and burned at her Magazine Lane home in Wisbech, Cambridgeshire, on 13 January 2013.
However it was two days before a murder inquiry was launched and police have not yet charged anyone.
The review said officers at the scene should have "sought further guidance".
The two officers first on the scene were found to have "breached the standards of professional behaviour", however their actions were not considered to be "deliberately neglectful".
Nor did they "fall so far short of the standards of professional behaviour" that they should face formal sanctions.
"The investigator considered the set of circumstances with which the officers were presented was sufficiently unusual, particularly once the injuries to Mrs Crown's neck were found," Supt Mark Hodgson, head of Cambridgeshire Police's professional standards department said.
'Regret distress'
"They should have erred on the side of caution and either declared the death suspicious or sought further guidance."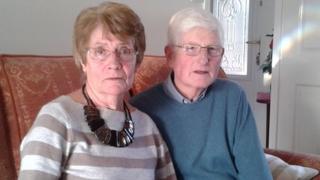 "Both officers greatly regret the distress caused to Mr and Mrs Payne by their flawed decision-making," Supt Hodgson said.
The review recommended the force carry out further training to ensure such mistakes did not reoccur.
Despite a number of arrests in connection with Mrs Crown's murder, no-one has been charged.
One man arrested on suspicion of her murder remains on bail until next month.
---
Una Crown murder investigation: The story so far
Una Crown was last seen alive on 11 January 2013, but had spoken to a friend by telephone at about 17:00 GMT the following day.
Police believe she was murdered some time before 21:00 GMT that day.
Her body was discovered in her bungalow on 13 January.
The family was initially told by police the death was accidental and they could return to the house.
A murder investigation began on 15 January after a post-mortem examination found she had been stabbed repeatedly.
Mrs Crown's family was then asked to leave the property to enable forensic tests to take place.
They later told the BBC they felt "let down" by the police and said clues may have been lost after the death was treated as "accidental" for two days.
At the time police admitted they "may not have been as quick off the mark as we should have been".
---