Wilko Johnson returns to Cambridge hospital that saved his life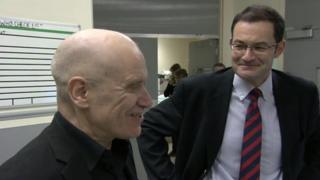 Wilko Johnson has returned to the Cambridge hospital where he successfully underwent treatment for what he thought was terminal cancer.
The former Dr Feelgood guitarist, 67, was given 10 months to live after being diagnosed with pancreatic cancer.
But, he got the all clear in April, after the 3kg (7lb 8oz) tumour was removed at Addenbrooke's Hospital.
To thank the hospital he will perform in a fund-raising gig in Cambridge next month.
'Miserable so-and-so'
His surgeon Emmanuel Huget said the specialist pancreatic unit "rarely" encounters "tumours of that size".
Following his diagnosis, Johnson went on a "farewell tour" in 2013 and recorded an album with The Who's Roger Daltrey.
But, medics then found he had a rare and curable form of the cancer when one of his doctor friends started to question why he was still feeling fairly well several months after he had been given his prognosis.
Johnson went to see a cancer specialist at Addenbrooke's, where the tumour was identified.
Mr Huget said the 11-hour operation was "out of the ordinary".
"Even in a large pancreatic cancer centre like Addenbrooke's, we rarely encounter tumours of that size that have involved so many other organs," he said.
Johnson said: "I'm a bit of a miserable so-and-so - I've always been.
"Now, I think I've not got any right whatsoever to complain about my lot - how lucky can you get."
The benefit gig at the Junction in Cambridge on 6 March is already sold out.