Peterborough child sex abuser Alan Burgess jailed for 18 years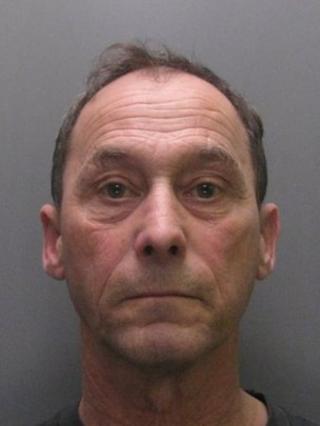 A man who sexually abused four girls, one as young as four, over a 14-year period has been jailed for 18 years.
Alan Burgess, 65, of Seymour Place, Paston, Peterborough, was found guilty of 19 separate counts at the city's crown court earlier.
His crimes came to light when one victim, first abused at the age of four and now aged 19, reported Burgess.
He abused his victims between 2000 and 2013 by "gaining the trust of their mothers", police said.
Burgess became friends with his first victim's mother and began babysitting her, officers said.
He also bought the girl gifts and paid for various activities.
However, his victim came forward in 2013 and reported the abuse she had suffered at the hands of Burgess.
Three other victims were discovered by Cambridgeshire Police while investigating her case.
'Truly despicable'
The former delivery driver had abused three other girls, aged eight, nine, and 11.
Det Con Mark Andrews, who led the investigation, said: "Burgess targeted vulnerable girls with difficult backgrounds, families with financial troubles who had no father-figure in their lives.
"He would develop the trust of the mothers by offering his services as a babysitter. He would then buy the girls gifts, pay for horse riding lessons and take them bowling.
"Once he had gained the parents' trust the abuse would start."
He described Burgess's crimes as "truly despicable" and said that was "reflected in the sentence handed out".
His victims had shown "huge amounts of courage in giving their evidence at court and should be commended", Mr Andrews said.
"In particular, the information provided by the victim who first reported Burgess to us helped identify the other victims, and safeguarded them from potential further abuse."