GW Frank butcher's of Wisbech shuts after 107 years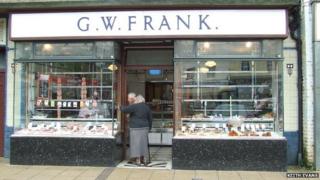 A butcher's shop run by the same family for 107 years has shut for the final time.
GW Frank, of Wisbech, Cambridgeshire, closed on Saturday after owners David and Christine Williams retired.
The firm was set up by Mrs Williams' great uncle, George William Frank, in 1908, and was taken over by her father, Malcolm Carse, in the 1950s.
Mr Williams, 61, who joined his wife in the business in the 1990s, said their retirement was a "sad day".
He said there was no-one to continue the family line, with one of their sons a teacher and the other currently touring New Zealand.
The couple, who employed ten people, will continue to live above the town centre shop - a Grade II-listed building.
Mr Williams, who previously worked in the haulage industry, said: "It feels very strange to have retired. This is the first day of it and we're still up early.
"It was a sad day but also a relief. We haven't had a holiday for five or six years so we're looking forward to that.
"We haven't decided where we're going - I've got to get a passport first."
He said the hoped to find a tenant for the shop and thanked their customers.
"Christine and I have had endless numbers of cards and the customers have been wonderful," said Mr Williams.