Stag gore victim Kate Stone to help regulate the press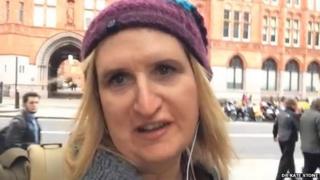 A woman who forced six newspapers to change their stories after making "inappropriate" references to her gender status has been appointed to a committee on editorial standards.
Dr Kate Stone, 45, from Cambridge, made the news after she was nearly killed by a stag in the Highlands in 2013.
The Press Complaints Commission upheld her concerns about several articles.
That experience helped convince press regulator Ipso to appoint her to the Editors' Code of Practice Committee.
Dr Stone was nearly killed when a stag gored her throat on 30 December 2013 near Fort William.
Several papers included details of her personal life.
She complained to the PCC that the Daily Mail, The Sun, The Scottish Sun, Daily Mirror, Daily Telegraph and Daily Record had made "irrelevant" references to her gender.
The PCC upheld her complaints and agreed the newspapers' reports had been intrusive.
'Change the landscape'
She has now been appointed to a committee of the Independent Press Standards Organisation (Ipso), which was set up in September as a replacement for the Press Complaints Commission.
The editors' code of practice "sets the benchmark for... ethical standards" within the newspaper and magazine industries.
Dr Stone said she was "delighted" and said she "really hopes to make a difference and do something to build some trust".
Some newspapers had "trampled all over" her private life, she said, and she "wants to change that landscape".
"I hope in the future articles can be written without resorting to irrelevant personal details," Dr Stone said.
"I have had to think beyond my own personal privacy, but now I have the privilege of seeing articles about my life that do not include those things."
Christine Elliott, chief executive of the Institute for Turnaround, and David Jessel, a former TV investigative journalist were also appointed lay members of the committee.
Lay members are defined as "people who are independent of the press" and are appointed for three years.