Cambridge trust gets 1,000 applications for Antarctic jobs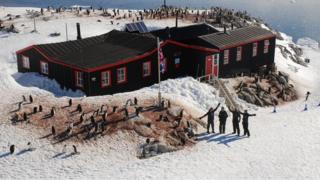 More than 1,000 people have applied to live and work for five months on an Antarctic island, at -5C, surrounded by 2,000 penguins.
But UK Antarctic Heritage Trust in Cambridge is offering this enticing summer posting to just four people.
They will look after Port Lockroy post office handling 70,000 items of mail during the November to March summer.
About 18,000 people from cruise ships will also visit them to learn about its history, heritage and environment.
The team work on Goudier Island, home to thousands of gentoo penguin parents.
Lewis Robinson from the trust said more people than ever before had applied for one of the four posts.
"Last year we had about 200 applications. It's an important job looking after visitors while maintaining the base and a museum.
"The successful applicants will have to be confident enough to talk about the history of the island, the local area and the penguins."
The job description pulls no punches.
"Living conditions are comfortable though basic with no mains power, heat or water, and limited communications," it said.
But also it asks "Can you carry a big heavy box over slippery rocks and slushy snow whilst dodging penguins?
"Are you happy not to shower for up to a month, live in close proximity to three people and 2,000 smelly penguins for five months?"
Mr Robinson said the team would work round the clock as Antarctica was in perpetual daylight and cruise ships could arrive at any time.
Penguins are everywhere and while they tolerate humans visitors need to respect their habitat.
The job involves "being prepared to be on call and smiling for all waking hours, seven days a week".