Warning as Cambridgeshire dog in chewing gum near-death drama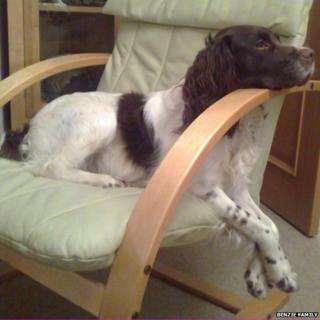 Dog owners are being warned not to leave chewing gum where pets can find it after a spaniel nearly died when he ate tablets containing a sweetener that is toxic to canines.
Ollie, a four-year-old English Springer Spaniel, ate gum containing xylitol at his home in Stretham, Cambridgeshire.
His owner Denise Benzie said she had no idea the gum could kill her dog until she called a vet for advice.
He was treated as an emergency case and was "very lucky", his vet said.
Ollie found the large box of gum which been left on a bed in the family home before demolishing about 10 tablets as well as most of the container, Mrs Benzie said.
"Initially I was just worried he would have a big gum-ball in his stomach but when the vet heard it contained xylitol, he said it was 'very toxic' and we needed to bring Ollie in immediately."
'A lot of gum'
Veterinary surgeon Ian Halliday, who treated the dog at Companion Care Vets in Ely, said: "He was very lucky that we got him here so quickly."
Xylitol lowers dogs' blood sugar levels which can lead to liver failure and death if not treated.
The toxicity depends on how much has been ingested in relation to the animal's weight.
"He had eaten quite a lot of gum," Mr Halliday said. "With that amount he could have died."
Staff managed to remove the substance, but Ollie's liver function had to be monitored for four days.
Although Ollie's experience with the chewing gum was accidental, Mrs Benzie said: "The best advice given to me by the vet is, 'Don't give dogs anything not meant for a dog'."
Mr Halliday said dog owners should be aware of other foods that could poison their pet, and with Easter coming up, he warned of the toxic effect of chocolate on dogs' hearts.
---
Doggy don'ts - other things that could poison your pooch:
Chocolate
Macadamia nuts
Grapes
Sultanas and raisins
Onions
Flower bulbs, including daffodil and crocus
Source: Companion Care Vets
---