Neale-Wade Academy forced to disclose ex-teacher's sex offence conviction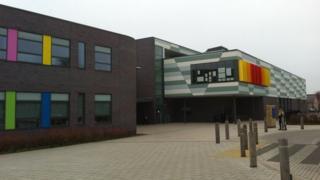 A school has been forced to inform parents of a former teacher's sex offence conviction after learning the details would be publicised.
David Kurt Pomarenski, who taught English at Neale-Wade Academy, was sentenced for possessing indecent images of children last July.
A letter was sent on Thursday, after a local paper was told about the case.
Parents were not told earlier as the teacher was "no longer an employee", the school told the BBC.
Pomarenski was suspended after his arrest in October 2013 and convicted at Cambridge Crown Court the following July.
'Full assurances'
He was handed an eight-month jail term, suspended for two years, and put on the sex offenders register for 10 years.
Jason Wing, head of the school in March, Cambridgeshire, sent letters informing parents an article about the former teacher was to be published, after a whistleblower approached the Cambs Times.
It assured parents the offences were carried out on the teacher's home computer, away from school premises and "did not involve any past or present students".
However, the school was unable to inform parents at the time "because of the confidential nature of the allegations" and the ongoing investigation.
Mr Wing told the BBC the letter was intended to give parents "our full assurances of what actually happened".
Meet with parents
"It's obviously very difficult when you know something has happened but you're absolutely unable to tell anybody about it for obvious reasons," he said.
Asked why the school did not inform parents of the outcome of the case, Mr Wing said: "He was no longer an employee and had resigned."
The school was "100% confident that no past or present students were at harm or at risk", Mr Wing said.
He said he would be happy to meet with any parents who had concerns.