Somersham dog 'burnt during Animal Health Trust scan'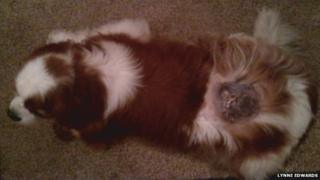 A dog suffered third degree burns as it was undergoing an MRI scan at a vets' surgery, its owner claims.
Lynne Edwards said spaniel Alfie, 12, was injured at the Animal Health Trust near Newmarket in Suffolk.
Heat pads, used to keep anaesthetised animals warm during scans, caused the burns that took two weeks to show, the inter-faith minister of Somersham, Cambridgeshire, said.
A trust spokeswoman said a "full investigation" was under way.
Rev Edwards has called for the use of pads to be halted or "adequately monitored". Her dog is still being treated for its injury.
The burn on its side did not show until the wound began to weep last week, she said.
'Appalling pain'
"It was the size of a heat pad and he has not been anywhere else since the hospital as he has been too unwell.
"Alfie has been in appalling pain and we did not know what was the matter.
"Apparently, such burns from these heat pads are known occurrences. The pads are insufficiently monitored and become too hot. This practice needs to be stopped."
David Fennell, veterinary surgeon at the Cromwell Group, where Alfie is registered, said he had known heating pad thermostats to fail "on occasion".
"It could also take a while for a burn to show and might be difficult to see through very thick fur," he added.
Sue Murphy, head of clinics at the trust in Kentford, said they had "pioneered" the use of animal MRIs in the 1990s.
"Since then we have scanned more than 20,000 animals. In the last five years, around 3,000 of these patients would have had heat pads to maintain their body temperature," she explained.
"We have never seen anything like this before in any of our patients."
A trust spokeswoman said the heating pads used by the organisation are gel-filled, rather than thermostatically-controlled, and are heated in an incubator or microwave prior to use.
"They are used to prevent hypothermia and other than these heat pads there are no other known methods of maintaining a patient's body temperature during MRI."
The trust was unable to comment further because of the ongoing investigation.