Rony John inquest: Swimming concerns over drowned boy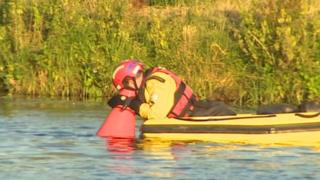 A coroner is to write to the education minister about the lack of secondary school swimming lessons after a 15-year-old boy drowned in Cambridgeshire.
The body of Rony John, 15, was found in the Great Ouse in Hartford last July.
Huntingdon Coroner's Court heard Rony, from Huntingdon, could barely swim having lived in India, and his current school stopped lessons due to cost.
Recording an accidental death verdict, assistant coroner Belinda Cheney said swimming was a "critical life skill".
The coroner said it was "not a difficult skill" to learn and told the hearing she would write to the government calling for the number of lessons provided as part of the national curriculum to be increased.
Lessons axed
Only primary schools are required to teach swimming under the national curriculum.
The inquest heard Rony, who moved to the UK in 2012, had jumped into the river while playing with friends on the first day of the school holidays.
He went missing in the water close to Church Lane in Hartford at about 15:30 BST on 24 July. His body was found the next morning.
Swimming lessons were stopped at his school, St Peter's secondary, in Huntingdon, just weeks after Rony's death because they cost nearly £10,000 a year, the hearing was told.
School headmaster Christopher Bennet said Rony would have been entitled to swimming classes, but it was not known if he had taken them.
Mrs Cheney said it was the responsibility of schools and parents that children could swim.
"Swimming is not a difficult skill to learn yet it is a critical life skill," she said.
Mrs Cheney said she would also write to the fire service about a lack of equipment and to the Environment Agency about the presence of warning signs.
The inquest heard firefighters wore specialist equipment and were in the river 10 minutes after the alarm was raised, but Mrs Cheney said Rony would not have survived after four minutes.
The fire service told the court a debriefing showed extra equipment was needed.