Cambridge museum rediscovers 'Magna Carta of geology'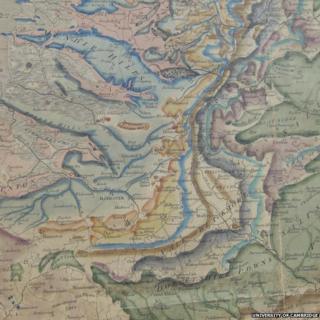 A rediscovered copy of the "Magna Carta of geology" has gone on display in time for the 200th anniversary of its publication.
William Smith's 1815 Geological Map of England and Wales has been called "the world's earliest geological map".
Only 400 were produced. The Sedgwick Museum of Earth Sciences in Cambridge believes 70 still exist and it is the only museum to put it on display.
The copy, found in 2013, has not been seen by the public for 100 years.
It was folded away in a box with other maps and forgotten about. Museum staff believe it was last seen during Queen Victoria's reign.
Museum director Ken McNamara said no one had attempted to create a geological map before Smith began his survey.
"It's really quite staggering what one man achieved over 10 or 15 years, travelling up and down the country as a canal surveyor," he said.
"It started geology as a modern science [and] it's incredibly accurate, even now in 2015."
However, Smith was "largely ignored by the geological establishment", became bankrupt and ended up in debtor's prison.
He finally gained recognition from the Geological Society of London in 1831 and was presented with the society's "most prestigious" medal, the Wollaston Medal.
The maps were produced over a four-year period and each took seven or eight days to be coloured.
Smith continued his geological research during that time and each new edition was amended as he went along.
The map was often sold in 15 separate sheets, either loose or in a leather travelling case.
The Sedgwick has two other copies of the map, one bound into a book and the other in its case.