Prince opens School of Pythagoras £2m archive centre in Cambridge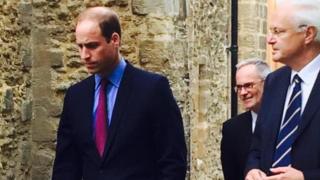 Prince William returned to the Cambridge college he attended last year to open a new £2m archive centre.
He unveiled a plaque at the new centre at the School of Pythagoras, which is part of St John's College, following a refurbishment.
The 800-year-old building, one of the oldest in Cambridge, houses the college's historic collection of documents.
The Duke of Cambridge attended a 10-week course at St John's last year.
The agricultural course was designed to prepare William for eventually taking over the Duchy of Cornwall estate from his father.
During his visit, the prince met people involved in the centre's renovation, toured the school and attended a reception with university academics and students.
The archive includes items collected since the college was established in 1511.
The School of Pythagoras is understood to be the oldest surviving secular building in Cambridge.