Dog shot in head by crossbow wins PDSA survivor award
A dog that was shot in the head by a crossbow has been given an award.
Staffordshire bull terrier Ziggy was found with a 50cm (20in) crossbow bolt sticking out of his head in October 2014, near Wansford, Peterborough.
He survived the attack and an operation to remove the bolt, which narrowly missed his eyes and brain.
Vet charity PDSA gave Ziggy the Pet Survivor 2015 award, saying it was a "one-in-a-million chance that he survived".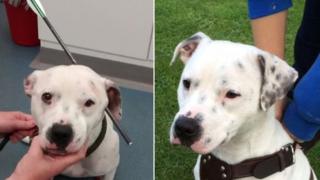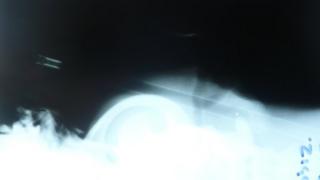 Ziggy, now three years old, was found in woodland and, despite his injuries, was still "bright, friendly and wagging his tail", the PDSA said.
Cees Bennett, who treated Ziggy, said: "X-rays revealed that the bolt had deflected off the exterior of his skull, miraculously missing all vital blood vessels, nerves, his eye and ear canal.
"Ziggy's recovery was nothing short of astonishing. Within two weeks of having the surgery it was hard to tell that anything had ever happened to him."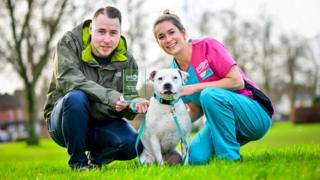 He has since been rehomed in Watford.
Dominic O'Hare, one of Ziggy's new owners, said the award was a "tribute to his amazing survival spirit".
"Ziggy is such an incredible dog," Mr O'Hare said.
"Despite everything he's been through, he's still incredibly trusting and affectionate."
The RSPCA said no-one had been prosecuted over the attack.
---
Animals overcoming the odds
The other finalists for the PDSA survival award were:
Honey the cat - shot in the face with a metal ball bearing
Ozzy the cat - lost a leg after being attacked by a dog
Penny the dog - run over by a lorry
Ruby the kitten - suffered chemical burns to 50% of her body
Suki the miniature schnauzer - left with prolapsed intestines after a dog attack
---