Coton hammer attack trial begins at the Old Bailey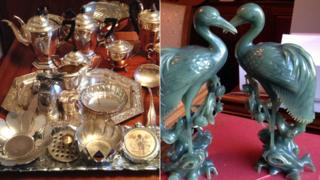 A couple in their 70s were bound, beaten and tortured by burglars who stole £20,000 in cash, ornaments and jewellery, a trial has heard.
The Old Bailey was told the couple were put through a four-hour ordeal in Coton in Cambridgeshire, in November 2014.
John McCarthy, 35, of Cambridge and Richard Leslie, 37, of south London, deny aggravated burglary.
The prosecution said a four-strong gang was armed with a hammer and crowbar.
The night-time raid by men wearing forensics suits, saw the couple tied up with duct tape, beaten, threatened and locked in a utility cupboard.
'Smelting kiln'
The man was hit with a chair while the woman was forced to walk on shards of glass, the jury heard.
Maryam Syed, for the prosecution, said the "shaken and tearful" couple had managed to free themselves after the husband crawled through a window and they then fled to their daughter's house.
Mr McCarthy, of Greystoke Court, and Mr Leslie, of Thornville Grove in Mitcham, were alleged to be part of a gang which made off with items including silverware and jade ornaments from China.
The prosecution said the two accused were associated with Marc Smith, 43, of Fallowfield in Cambridge, who has admitted handling stolen goods.
Forensic evidence linked a roll of discarded tape to the two accused, while the court heard the first person Mr McCarthy contacted on his phone after the raid was Smith.
Smith's home was subsequently searched where police found £15,000 in cash and a kiln for smelting precious metals.
A fourth man, Jacob O'Dell, 20, of Brackley Close in Cambridge, is also standing trial alongside the other two men.
He has pleaded not guilty to a charge of intimidating a witness on Facebook.
The court heard two other men involved in the burglary have never been traced.
The trial continues.