Coton hammer torture attack: Raiders found guilty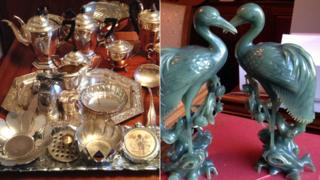 Two men who bound, beat and tortured a couple in their 70s, making off with £20,000 in cash, ornaments and jewellery from their home, have been found guilty of aggravated burglary.
John McCarthy, 35, of Cambridge, and Richard Leslie, 37, of south London, attacked the couple in Coton, Cambridgeshire, in November 2014.
The men were armed with a hammer and crowbar, the Old Bailey heard.
Both denied the charge but were found guilty by a jury.
The former cleaners were linked to Marc Smith, 43, from Cambridge, who admitted handling stolen goods.
Prosecutor Maryam Syed had said the victims were targeted through Smith, who had previously worked for a taxi firm the couple used.
When Smith's home was searched, police found a new kiln for smelting down precious metals as well as £15,000 in cash.
The three defendants will be sentenced alongside Jacob O'Dell, 20, from Cambridge, who admitted sending malicious communications to a witness via Facebook last year. The court heard two other men involved in the burglary have never been caught.
'Horrific details'
During the night-time raid McCarthy and Leslie, wearing forensics suits, tied the couple up with duct tape, beat them and locked them in a utility cupboard.
The man was hit with a chair while the woman was forced to walk on shards of glass, the jury heard.
During the trial Mr Syed said the "shaken and tearful" couple had managed to free themselves after the husband crawled through a window and they then fled to their daughter's house.
In a statement, the victims' daughter, who does not wish to be named, said: "The horrific details of the crime have been laid out unsparingly in the course of the trial and the monetary loss has been tallied.
"What hasn't been said is the personal loss my parents have suffered and continue to suffer; their loss of their sense of security, the loss of their retirement dreams, the loss of precious memories.
"Family heirlooms, medals, wedding gifts and other irreplaceable mementoes, collected over generations, were melted down to their constituent metals and sold for scrap."
Det Insp Alan Page said the victims had shown "immense courage".
"This was a cowardly and calculated offence," he said.
"Leslie and McCarthy should feel total and utter shame that they could inflict such a sustained, violent attack on an elderly couple in their own home."