Man jailed for attempted kidnap of estranged wife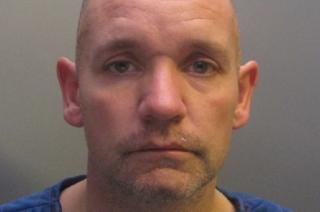 A man who hid in his estranged wife's car boot as part of a kidnap plot was foiled when his aftershave gave the game away.
Colin French, 42, from Stevenage, lay in wait in the vehicle but his scent led his victim to check the boot, where she found him curled up inside.
He then tried to attack her with a carving knife but was chased off.
French denied attempted kidnap but was found guilty after a trial and jailed for four years.
His victim had told him she was ending the relationship after he tampered with her phone.
Police said he hatched a plan to kidnap her and had purchased an angle grinder, masking tape, cable ties, a hacksaw and a drill, some of which he used to break into her house and steal her car keys.
On 4 November, he climbed into the car in Hardwick, where she worked, in a bid to hatch his plan and then fled in her vehicle when it went wrong. He was found the following day.
'Fatal harm'
In court, he claimed he only wanted to talk to his wife, and had intended to push down the arm rest in the back and speak to her through the gap, from the car boot.
Cambridgeshire Police said he had subjected his then-wife to "emotional, physical and psychological abuse throughout their marriage".
French, of Scarborough Avenue, was described by police as "an extremely dangerous individual with serious intentions of causing significant, if not fatal, harm to his wife".
He also admitted burglary and possessing a bladed weapon, and was sentenced to 12 months for each. He further admitted taking the car and was given six months.
The offences were committed while he was on a life-licence having served six years in prison in 2006 for setting fire to an ex-partner's home when their relationship ended.