Maize maze of BFG is 'biggest ever' image of Dahl's giant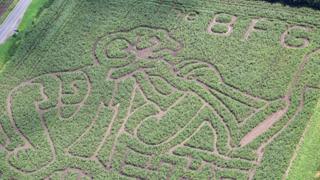 The centenary of author Roald Dahl's birth has been marked by the creation of what organisers claim is the "biggest ever" image of the BFG.
Edward Gowler has cut 1.8 miles (3km) of pathways in a 12 acre (4.85 hectare) field of maize to make the BFG - short for the Big Friendly Giant - maze.
It has been created by Skylark Garden Centre near March in Cambridgeshire.
Mr Gowler, the centre's owner, said the 500ft (150m) maize BFG is "even bigger" than Dahl's character.
The BFG was published by Dahl in 1982 and is about a giant who captures dreams in bottles for children to enjoy while they sleep
The maze will open to the public on 16 July.